Travel insurance
At Hogans Irish Cottages we believe that arranging suitable travel insurance cover is just as important as watering the plants and locking the front door before you set off on your holiday. We offer comprehensive cover for up to 16 people that offers peace of mind and great value for money.
Cancellation and Curtailment - up to £5,000 per booking


Medical and treatment expenses - up to £2,000,000


Personal Accident - up to £10,000


Personal Liability - up to £2,000,000


Personal Effects and Baggage - up to £1,000
Ireland Premiums
| | |
| --- | --- |
| Duration of Holiday | Insurance Premium |
| Up to 5 days | £21 |
| Up to 10 days | £31 |
| Up to 15 days | £41 |
| Up to 31 days | £61 |
Premiums include Insurance Premium Tax @20%.
Ireland Policy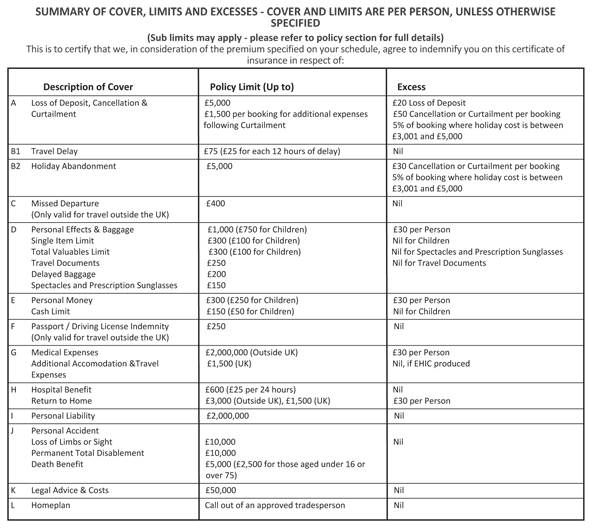 These are summaries of cover only. Full terms and conditions are contained with the policy wordings, specimen copies of which are downloadable from this website. Please click here to download document.
Important Information Regarding Pre-exisiting Medical Conditions
HEALTH CONDITIONS
You must be able to comply with the following conditions to have the full protection of your policy.
If you do not comply we may refuse to deal with any relevant claim or reduce the amount of any relevant claim payment.
If you are travelling outside of the United Kingdom
You must telephone the Towergate Medical Line on 0344 892 1698 if anyone to be covered by this policy, or any person upon whose health the trip depends:
Has or has had a medical condition (excluding childhood and minor ailments not requiring treatment).
Is taking prescribed medication.
Has or has had any medical condition still requiring periodic review.
Is awaiting any tests, treatment, investigation, referral or the results of these.
The Towergate Medical Line office hours are 9am to 5pm Monday to Friday excluding Bank Holidays.
PLEASE NOTE - You must also notify the Towergate Medical Line immediately of any changes in medical circumstances arising between the date the policy is issued and the time of departure for the trip. You may have to pay an additional premium to cover your medical conditions. This applies to all destinations including trips solely within the United Kingdom (being defined asEngland, Scotland, Wales, Northern Ireland and the Isles of Scilly).
Travel Insurance Cancellation Terms
If, after reading the policy, this Insurance does not meet with your requirements, please return it to Hogans Cottages within fourteen days of issue and prior to the commencement of your holiday. If you have paid a Premium and have not made a claim, this will then be refunded in full.

Sykes Cottages Limited T/A Hogans Cottages is an appointed representative of ITC Compliance Limited which is authorised and regulated by the Financial Conduct Authority (their registration number is 313486) and which is permitted to advise on and arrange general insurance contracts.